GALA DINNER
L'OCEANOGRÀFIC, "Underwater City"
The Gala Dinner will take place on Thursday 7th at the restaurant located into L'Oceanogràfic.
The Ciudad de las Artes y las Ciencias (City of Arts and Sciences) includes amongst its attractions L'Oceanogràfic, the largest marine park in Europe that offers an exciting underwater voyage.
L´Oceanogràfic has been constructed with two main objectives: to create a centre from which to raise awareness of the importance and need to preserve and research the marine environment, and to support the recovery and rehabilitation of protected fauna and flora, thus contributing to the environmental protection and the biodiversity of the planet.
The park represents the planet's principal marine ecosystems – from the Atlantic, the Mediterranean and continental waters to the icy seas of the Arctic and Antarctic, passing through the temperate and tropical habitats – and undertakes important educational, conservation and research projects related with the marine sciences.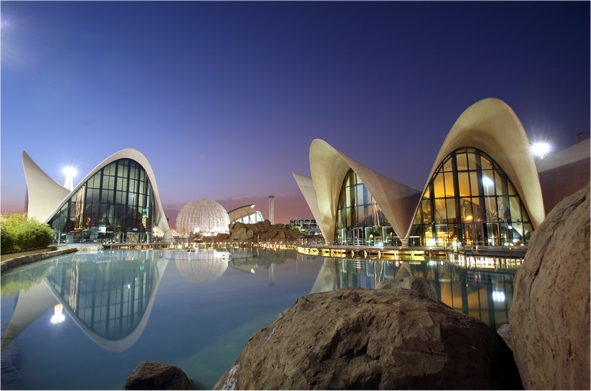 General view of L'Oceanogràfic.
Unique in the world in terms of its size, design and its large biological collection, L´Oceanogràfic permits the public to experience at first hand the behaviour of animals such as dolphins, sea lions, seals and sharks, amongst other living creatures, and to learn about the coral generating ecosystems and the wealth of the Mediterranean sea. It also offers projects with a highly educational content concerning aspects of the marine world and the need to preserve it. The International Scientific Advisory Committee, made up of respected experts from aquaria, research institutes and universities in the United States and Europe, supervises the scientific and educational projects.
The roofs of the entrance building and the Underwater Restaurant, designed by the architect Félix Candela, are hyperbolic paraboloids, constructed in concrete, that represent the shape of a water lily.
The L'Oceanogràfic has a volume of 42 million litres of salt water (equivalent to 15 Olympic swimming pools), an area of 110,000 square metres, and a capacity for holding more than 45,000 examples of 500 different species.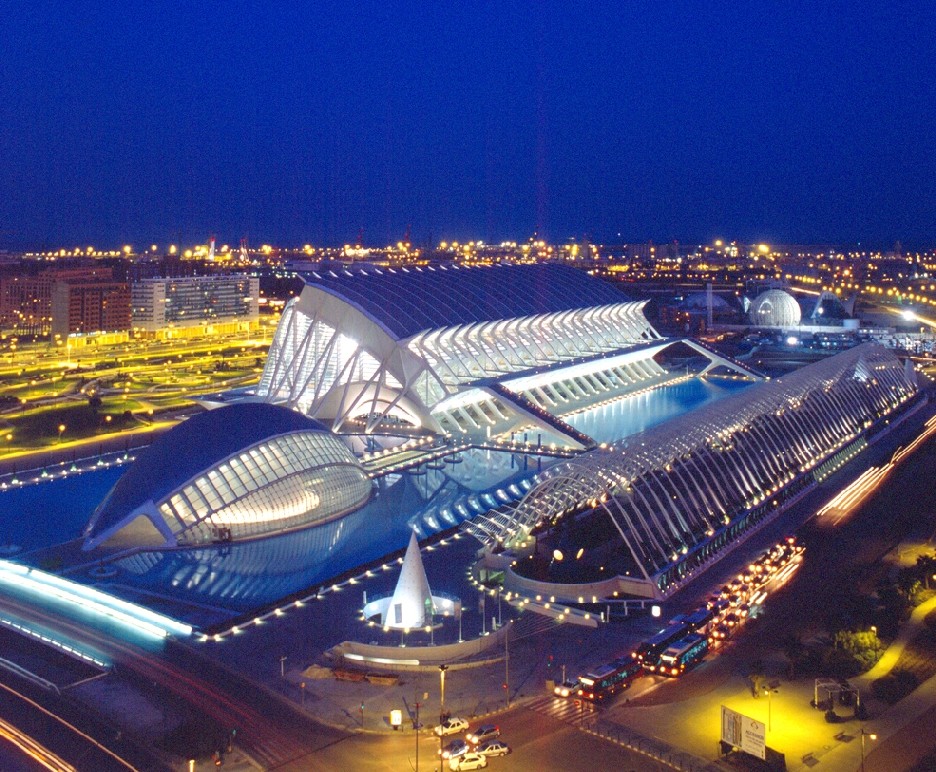 General view of the City of Arts and Sciences
How to get "L' OCEANOGRAFIC"
By train
Valencia has to main train stations, Estación de El Cabanyal and Estación del Norte . One can take a city bus from either of these stations to the City of Arts and Sciences. For information on train timetables and ticket prices, go to: National Rail Network
By Coach and Bus
Valencia coach station is located on the bank of the former course of the River Túria. This is the stopping place for regular services arriving from all over Spain. To get to the City of Arts and Sciences from here, just cross the river and catch EMT bus nº95 The following EMT buses go the City of Arts and Sciences: : 19, 35, 95 and 40.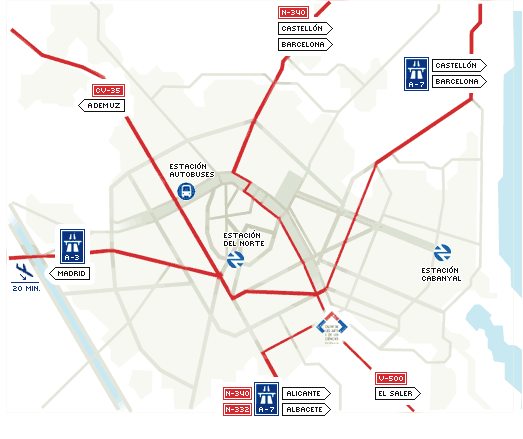 By metro
The metro lines closest to the City of Arts and Sciences are lines nºº 3 and nº 5 . We recommend using the Alameda stop, approximately 15 minutes from the complex. Further information: